In November, I'll be opening a solo show of work at Under the Bridge, an art space in North Miami run by Lou Anne Colodny.
I'm very excited about the exhibition, and I'm in the process of making the work.
The basis for the work that will be in the show started with a couple of previous images, My Miami, an editioned screenprint that I made in 2012, and a sketchbook plan for an edition which I drew in 2015 (but have not yet made).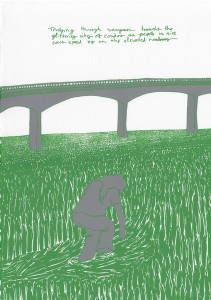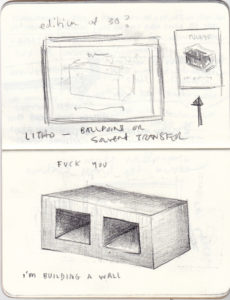 The text in My Miami reads:
"Trudging through sawgrass towards the glittering city of condos as people in nice cars speed by on the elevated roadway."
The text in the sketchbook drawing reads:
"Fuck you. I'm building a wall."
I promise that I came up with my wall comment well-before Trump began to blather about his beautiful wall–9 months before he did, in fact (I just checked).  That text, in fact, is so unrelated to Trump's wall that I can't use it in any form for the work I'm currently making. It might survive the association on its own, as a standalone edition, but really, my wall comment is about development in Miami; I had also planned a companion edition, in which the cinderblock is rotated vertically, and would be accompanied by this text:
"Fuck you. I'm building a mall."
In any case, the two narratives have been simmering in my mind for quite a while now, and one of the first images that I can call 'done' for my upcoming show clearly shows a visual blend of the two.
The figure of the woman in My Miami also remains part of the in-progress body of work, though not as a literal form.  She becomes the voice of the show–in a way; I've written a short fiction that is related to the exhibition, and she (or a version of her) is the narrator.
The short fiction is something that I wrote which is inspired in tone, and somewhat in theme, by The Invention of Morel, by Adolfo Bioy Casares–it's one of my favorite stories (it's a novella of 90 pages), and I've been ruining (too much love, not enough preservation) a gorgeous, 1964 University of Texas Press copy of it ever since I bought it from a used bookstore in Denton, Texas, sometime in the '90s.  This edition includes a cover and illustrations by Norah Borges de Torre, the younger sister of Jorge Luis Borges; she's pretty interesting, and happened to be a member of the Florida group, which I can't help but think is an amusing relationship given my location.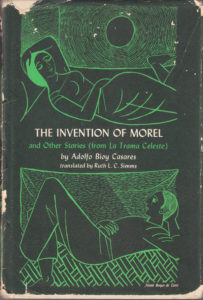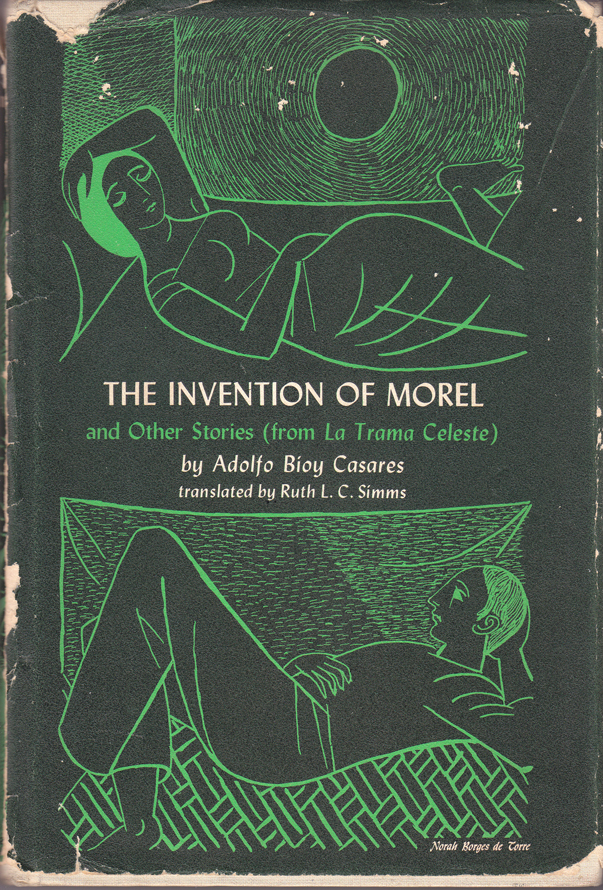 Borges de Torre's illustrations appear to be woodcuts, and their style is a delightful tropical modernism.  You can see some of the interior illustrations here (not my flickr account).
The Invention of Morel is such a resonant narrative for me that I want everyone to read it, but I'm also completely wary of spoiling it in any way.  I've described it roughly, and somewhat badly in my initial press-release/statement text (which will be at the bottom of this post), but a simpler thing to do might be to share this quote that my eye just caught upon as I was looking through the book before scanning the cover above:
"We will be able to live a life that is always new, because in each moment of the projection we shall have no memories other than those we had in the corresponding moment of the eternal record, and because the future, left behind many times, will maintain its attributes forever."
The bit I shared above is but a fragment of an astounding revelation made by a man (Morel, in fact) who has ultimately, because he cannot let go of the vision he has for his desires, betrayed his friends, the moment for which he feels so deeply, and their futures.
Like many narratives from South America that were written during eras tainted by oppressive political regimes, The Invention of Morel includes a witness figure.  This poor fellow washes up as an outsider, stumbling into what appears to be the glamorous and incongruous life of certain others.  It transpires that most of what he witnesses are relics of something that does not exist anymore.  The novella has two sets of actors, then, the people who are 'living' and the individual apparently witnessing their lives.  [Actually, there's also a third actor–the character who writes the footnotes, and comments upon the observations of the witness.]  The setting is an unidentified island, which the witness-narrator describes as having large floods, and dangerously unpredictable high tides.
I don't want to say too much that's very specific right now about how related all of this is to the work I'm making, as specificity is an uncomfortable blow to an in-progress state of thought.  I could probably write endless amounts about Bioy Casares' novella as it has generally inspired me and my work, but perhaps another day.
The other image for the upcoming show which I can safely call 'done' is below, followed by a statement and information for the same.
It Was to Be a Glittering City
November 20, 2016 – January 8, 2017
Solo exhibition by Kathleen Hudspeth at Under the Bridge, North Miami, FL
12425 NE 13 AVE #4
It Was to Be a Glittering City, a solo exhibition by Kathleen Hudspeth, projects the future of Miami into a speculative eventual decline.
The imagery presents iconic vignettes spun from the narrative of an old woman's history of place and family.  Graphic, deeply encoded images act as synecdoche for the landscape, the city, the people, their dreams, and the consequences of building those dreams.
A short fiction written by the artist accompanies the artwork, and was inspired in tone and theme by The Invention of Morel, by Argentinian author Adolfo Bioy Casares.  In Bioy Casares' novella, the desire to capture that which cannot be possessed results in the creation of an enduring monument which itself is the means of destroying the object of desire.  The protagonist who serves as witness to these illusory events had no role in instigating them, yet lives within them, and becomes an eventual victim of desire as well.
Similarly, the audience viewing It Was to Be a Glittering City becomes protagonist, witness, and victim within the elusive remnants of consequence.
The works presented are unique, hand-pulled prints created using monotype, lithography, intaglio, screenprinting, collagraph, watercolor and gouache.
Kathleen Hudspeth is a native of Miami, Florida, and an adjunct professor of printmaking at New World School of the Arts in downtown Miami.  She is also founder and co-director of Turn-Based Press, the creation of which she was awarded a Knight Arts Challenge grant for in 2009.  She received an MFA in printmaking from the University of Miami in 2009, and a BFA in Studio Art from the University of Texas at Austin in 2000.